Last month I wrote about I made the monthly menu and then tried to stick by it for the whole month using what I had in the pantry and the freezer. Well, I am super happy to report that I was able to mostly stick with the plan and as of right now, I have some leftover cooked lentils in the fridge and 2 chicken breasts left in the freezer. That is pretty awesome.
And now, it is a new month and with a empty freezer and fridge, I need to figure out how I am going to do it this month. It will be a bit more challenging because I will have to grocery shop for the whole month and of course the exception being fresh veggies. Since there is not a whole lot to eat in the house, I don't know if I could carry this week over one more week and then do my big trip next and the reason I mention that is because this is labor day weekend. People hold cook-outs and I personally do not think it is the best time to be buying a month supply on meat, I have seen better deals than what I am finding right now. However, in the interest of sticking by something and just learning to make this work, I went ahead and made my menu and my grocery list and for this whole month I gave myself $400 for our family of 6. Ok, so, $400 for the month of September, that is approx $66 per person per month or $4.50 per meal per day for all 6 of us.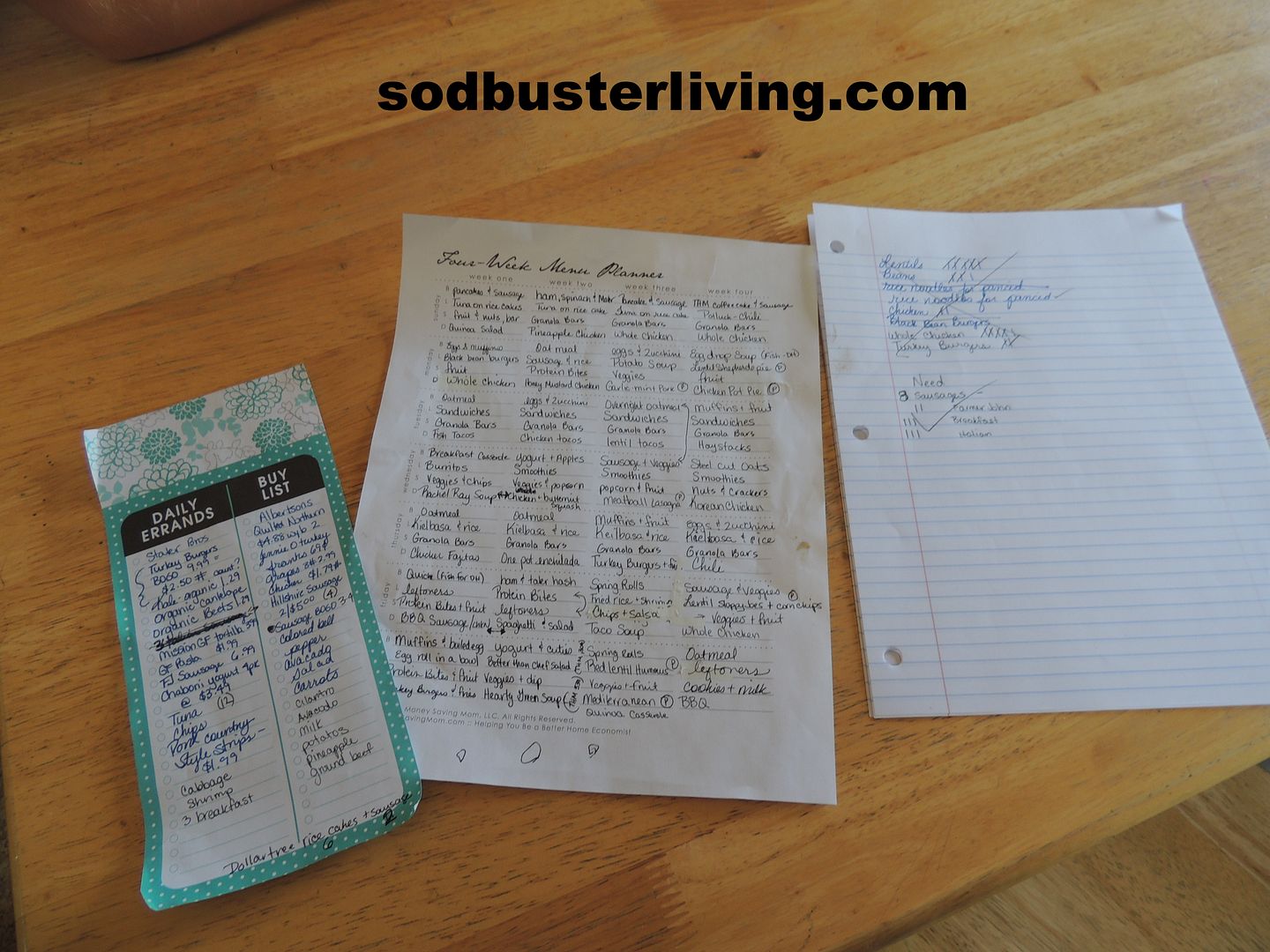 Remember, we are gluten-free exclusively. We do not drink cows milk, the children and I do almond milk and since my husband cannot have almonds–we get him the coconut milk. He also cannot have eggs, which use to be my breakfast staple but with the price of eggs lately, I am learning to be a bit more creative. My husband also cannot have dairy. I am not doing separate meals for everyone so I am learning to work the magic here. My point in telling you all this is that I cannot just grab cheap meals and go for it, I have to be selective. Believe me, especially during this season in my life, I would love to grab frozen pizzas and bag of frozen burritos to have for a stress-filled night, unfortunately, that is not an option.
So, with the help of Pinterest, vlogs, and MoneySavingMom aka Crystal Paine, I wrote my month menu, created my shopping list and hit the store.
To say I experienced a panic attack might be stretching the truth a bit far. But I was doing some serious praying and Bradly breathing techniques, my total bill this week was $345. It was really scary to have just filled up my envelopes for the month of September only to have my grocery money be down to almost nothing for the next three weeks. But I completed the shopping, that is the main thing. I did have to make a second trip back to the store for some more ground turkey because I did not plan that one correctly but that's ok. And then, after all that and being gone almost 4 hours, I came home and begged my husband to just go out for dinner. I think we go out to eat, at the most, once per month… It's just really hard to justify the spending on one meal for all 6 of us, that we could be spending on a week's worth of dinners. But, we did it. We took money out of the misc. funds (household, coffee, those kind of funds) and we walked down to a little sit down food place and enjoyed our dinner.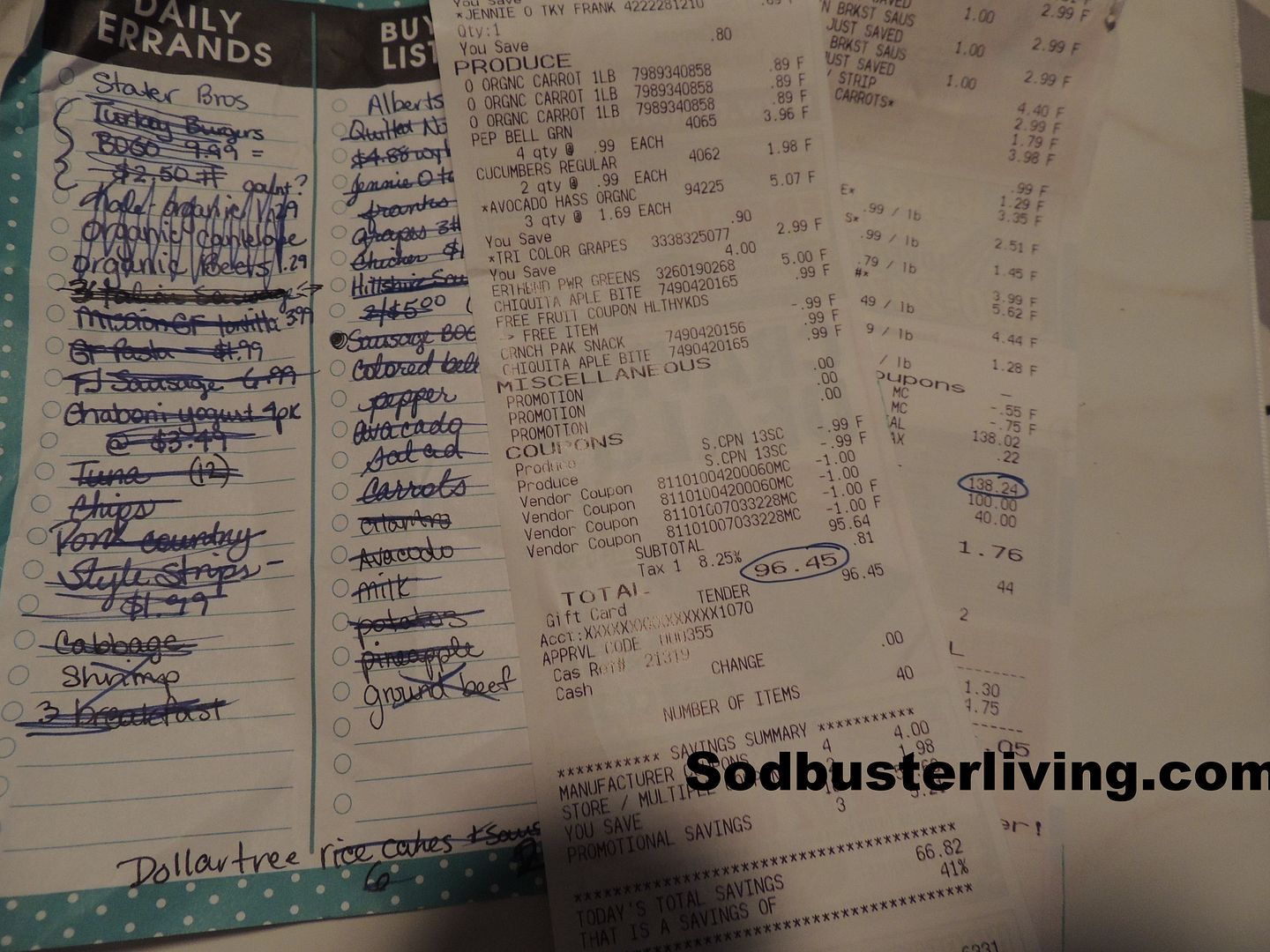 Ok, So breakdown, I have planned for the month of September, 4weeks = 28 days:
Breakfast
Pancakes and Sausage x2
Ham Spinach and potatoes x2
Trim Healthy Coffee Cake and Sausage (Hubby will have sausage and egg-free banana bread)
Muffins and boiled egg x2
Muffins and fruit x2
Oatmeal x7
Eggs and zucchini x3
Egg drop soup (fish for hubby)
Breakfast casserole
yogurt and fruit x2
Quiche (fish for hubby)
Sausage and veggies x2
Spring rolls x2
Lunch
Tuna on rice cakes x3
Black Bean Burgers
Italian sausage on rice
potato soup
Lentil Shepherds Pie
Sandwiches x4
Fried Burritos
Smoothies x3
Kielbasa and Rice x4
Leftovers x3
Fried Rice
Lentil Sloppy Joes
Egg roll in a bowl
Better than Chef Salad
Red Lentil Hummus and veggies
Potluck Sunday- Chili
Dinners
Quinoa Salad
Pineapple Chicken
Whole Chicken x4
Honey Mustard Chicken
Garlic-mint pork
Chicken pot pie
Fish taco
Chicken tacos
Lentil tacos
Haystacks
Rachel Ray's Lentil Soup with Kale
Chicken and Butternut Squash
Meatball Lasagna
Korean Chicken
Chicken Fajitas
One-pot Enchilada
Turkey Burgers x2
Chili
BBQ Sausage and chicken x2
Spaghetti and salad
Taco Soup
Hearty Green Soup
Mediterranean Quinoa Salad
A lot of the recipes you can find on the Pinterest link above. Some of them are just in my recipe binder.
I'll keep you all updated on the progress.