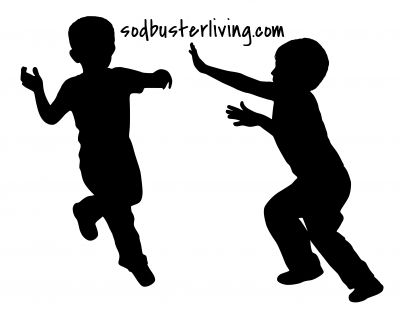 What else do homeschoolers do?
Today was our official first day of school 2015-2016. What fun! No, serious, it was a lot of a fun! We got up, did yogurt and granola (a treat! I don't do that meal often) and we quickly did our morning chores–and then the fun began! We started off with the three R's, as Ruth Beechick calls them, Reading, wRiting, and aRithmatic. The eldest two worked on handwriting and their Bible reading while I worked with the excited-to-begin three-year-old, on his writing. He does recognize the letters of the alphabet but writing is a bit hard for him. I bought $1 store stickers and for every page he does well he will earn a sticker. I only give him 5, at the most, letters to trace and I try to stick with the easier ones like, E, F, H, I, K, L, M, N, O, T, V, W, and X. I mix up the order and so for example, we did the letter M today. We also worked on the shape /. I dotted the lines out to make the shapes and then he traced over them with his pencil. It was simple enough but that is what he needs–simple. He felt accomplished enough and wanted to do more so I let him free-write along the bottom of the page for whatever he wanted to do. At this point number 2 child was waiting for his math lesson. This year I decided to go ahead and do Life With Fred–Apples, along with our regular math curriculum by MCP . Since he really struggles with realizing that he can do the work, I also got a few book from the library. This was one of the books and I love it so much that I actually went and put it in my Amazon cart the second we were done reading it.


So after we were done with that, I went and helped child number 1. We're using Charlotte Mason's spelling from https://simplycharlottemason.com. It was super simple today except for the work "ought". Since she didn't know what the word meant or how to spell it, I looked it up in the dictionary with her. She wrote it on her little white board and then studied the word for a while and then wrote out her spelling words again. We'll probably do it tomorrow and try to remember what it means again. I will also try to incorporate that word more often in our vocabulary and I also asked her to make a couple sentences using that word in the proper context. I wish I could take credit for that thought but it came from my friend, April, who is also teaching us handwriting and has been an excellent help in Charlotte Mason teaching. From there she went on to do her MCP book B and I went back to child number 2. He is doing very simple spelling and we're usuing McGuffey's readers. He read the super simple sentence but then he had to write it out. That really wasn't difficult for him in the spelling department but he kept writing his letters backwards and capitalizing letters in the middle of a word. So once he completed the sentence, he would go back and erase the letters and rewrite them correctly. By doing that, I was also having him work on his grammar. Speaking of Grammar, this is the one I have chosen for us for the next year or two. We recently were gifted with Rod and Staff Grammar, so I intend to research how to use that a bit more but this book is my preferred foundations to begin with.
For history I chose, The Story of the World by Susan Wise Baur. It works out really well for our Geography as well. I am super duper ubber excited–and so are the kidlets! This whole Summer we have been listening to the audio book while we run errands in the car and the kids are already talking about some of the things they learned about pyramid building and Queen Hapchepsut. Yesterday we talked about the Great Wall of China, even before the curriculum began, my kids are talking about our world history. We have such a wide variety of history books that I want to read, I can't even begin to list them all. I'll try to get a picture when they all arrive. Some of it maybe for the teacher a.k.a. Mom, but when I am enthusiastic about something so are they.
Science is more of a living science. I have Apologia beginner books that I raided from my mother's bookshelves. The children are into the bugs, critter, animals, and just the living earth, right now. I wanted to capture that while I had their attention and so we're classifying animals, learning more about how they all work, learning the seasons and how animals live their cycle by the weather. All these things are just being learned by reading. My friend was telling me that she was in the library and thought, "Wow, we could get a full education just by reading all the books here in the library." She was right! So, I'll create my own library.
I don't think we could have had a better day to start the school year off. I kind of wonder if I set myself up for something spectacular and then we kind of fall into a trap of expectancy and then just have an awful day–but this year was not like that! Instead, we accomplished what we needed too. We are all looking forward for tomorrow and then, who knows where this year will take us. I am watching my cup overflow tonight.
Townsend-House.com has a giveaway going on for $250 cash or Amazon gift certificate! I can only imagine all the school supplies that could be bought from that so I am recommending that you head on over there and enter the giveaway. If you can't use it, I will gladly email you my address. 😉