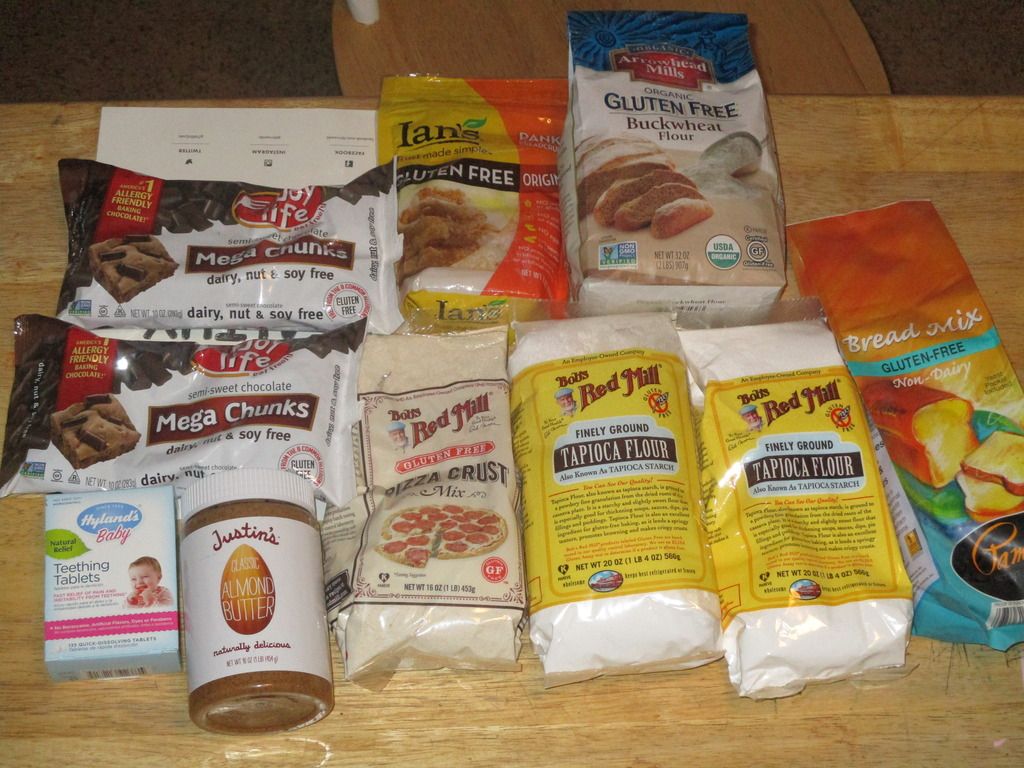 I have recently made my first purchase through the website, thrivemarket.com . I don't normally sign up for things like this. I generally find that its cheaper to purchase through Costco, Trader Joes, or Azurestandard co-op. However, new subscribers would get a free trial month, a free jar of almond butter, and 15% off their first order. With shipping being only $1.95 under $49 order, I figured it was worth a shot.
Keeping it simple I bought things I knew I needed as well as a couple new products to try;
2 packages of Tapioca Starch $2.95ea
Pamela's Gluten-free bread mix $4.25
Bob's Red Mill Pizza Crust $2.95
2 Enjoy Life Chocolate Chip $4.45 ea
Panko Gluten-Free bread crumbs $3.45
Buckwheat Flour 2# bag $4.95
Twin pack of Hyland's Teething Tablets $5.95
Almond Butter- Free
Total cost $36.35
Shipping $1.95
Take off 15% for being a new customer- $5.45
Total spent 33.27 (includes $0.42 tax)
Now, I received my order within 2 days! I was so happy about the speedy service of that. Now I want to point out pro's and cons before I do a price comparison between different companies.

Pro's for Thrivemarket:
Affordable shipping!
Your membership provides an additional membership to a struggling family
Compared to local shopping, the prices are more affordable
The convenience of home shopping
Organic items
Many more options for gluten-free then I can find locally
Arrived within 2 days
Referral links so you can earn more free product
Incentives throughout the year for x-amount of purchases (example: buy $60 worth of product and receive a free item)
Azure standard requires a minimum of $50 order, whereas Thrive has no requirements
Cons of Thrivemarket:

Membership is required for $50 a year (remember you provide a membership to a family in need, so two memberships for $50)
Prices are more expensive than azurestandard co-op, but not every place has azurestandard available
and while I am sure there are more cons, those were the only ones I could think of.
Is it worth spending the $50 on a membership?
Yes. I thought on this and did some adding up, yes, it is worth is for me. The fact that I have to wait until I have a $50 order for Azure can sometimes hinder what I order and then in the long run I end up spending more because I pay a little bit more at the store and not go over our monthly grocery budget. I made a price book to compare pricing on Thrive versus local and co-op so I know the best price. If I break the $50 cost down to per month, it will cost me $4.16 a month for Thrive. If I choose the items that I get on a regular basis through Thrive versus our local store, I will end up saving $15 a month, roughly, or $10 after the membership cost. If I compare it to Azure, I will save $20 buying in bulk through Azure but this is making a purchase that will last us a year. Something to consider.
However, not everyone has the option of Azurestandard in their area. If this is you and your situation, I definitely find that Thrivemarket.com is a great option for affordable products (especially the gluten-free items that I typically buy).
Burt Bee's lip balm cost about $3 at Walmart (cheapest)- Thrive has a organic lip balm for $1.65 (replacement for me!)
However, the Tahini we normally buy on Amazon is cheaper than what Thrive has to offer. ($8+ on Thrive versus $5 on Amazon)
Almond Flour is cheaper at Trader Joes for $5 versus $9.95 on Thrive
Organic Black Beans are the same price in the grocery store as it is on Thrive, however, co-op is cheaper or non-organic from Walmart for only $1. (Why are black beans so expensive?!)
All in all, if I can use my 15% with Thrive and plan my shopping well, I find that Thrive will work out well for our family and for my budget.
This is my own personal experience. I was not paid for this review. I am sharing my referral link that you can get 15% off your first order and sometimes for new subscribers you can get a free month as well as a free promotional item (almond butter is gone, I believe). My referral will only earn me credit for paying subscribers and after you make your first order.
If you have any question, please leave them in the comment below and I will do my best to answer.