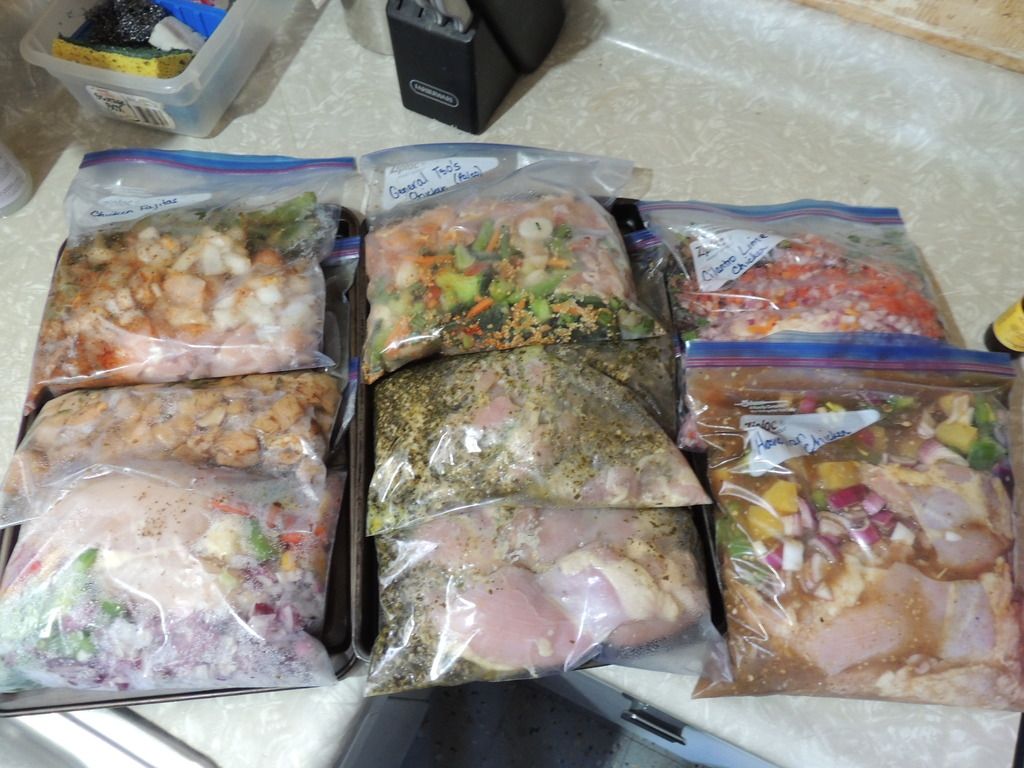 I love freezer meals. There have been many a day where I have been saved by the Crockpot phenomenon.  Dinner is waiting for us when we get home from Church or a long day away. On our crazy activity days (ballet, jiu jitsu, and my daycare in one afternoon) I can schedule dinner for the crockpot and not even be tempted to grab drive-thru food. There is another reason I love freezer meals– baby planning. In 3 months, we will be joyously welcoming a new baby into the world. I want to have 2 weeks worth of meals ready. The first week Daddy will be home and we can just enjoy new baby and the second week when Daddy goes back to work and we adjust our routine, I want to have dinner all done and ready to go so its one less thing to think about.
So, lets consider the cost of freezer meals. I took notes of each recipe I used and what the cost to me was. I did choose recipes that I had a lot of ingredients for which is something to consider when you are meal prepping.
Crockpot Chicken Philly Cheesesteak.
Chicken- $4.00 (rounded to the nearest dollar)
Chicken Broth (used my own)
3 bell peppers of different colors ($4.50)
1 onion (used what I had on hand)
Total cost for this meal $8.50
Rosemary Chicken, and Chicken Fajitas
Rosemary Chicken
Chicken $3.50
Fresh Rosemary $2.50
Everything else I used what I had on hand.
Total cost $6.00
Chicken Fajitas
Chicken $4.00
2 bell peppers $2.00
Used what I had on hand for everything else. (Remember, you can make your own Taco seasoning as well!)
Total cost for this meal $6.00
Pesto Ranch Chicken and Hawaiian Chicken
2 batches of Peto Ranch Chicken
Chicken $7.50
Ranch seasoning $2.50
Pesto $5.00
Total cost $16.00 or $7.50 per meal
Hawaiian Chicken
Chicken $3.50
Pineapple $1.75
1 Bell pepper $1.00
Used what I had on hand for the rest.
Total cost $6.50
General Tso's Chicken and Cilantro Lime Chicken
General Tso's Chicken (Paleo)
Chicken $3.50
Stir Fry Veggies $2.50
green onion .75
used what I had on hand for the rest (I also added sesame seeds since I had it and thought it sounded delish)
Total Cost- $6.75
Cilantro Lime Chicken
Chicken $4.25 (ran out of chicken and so I had to purchase just a little bit more to cover this)
1 Onion $.99
2 Bell peppers $2.25
Used items on hand for everything else and added a can of black beans.
Total Cost $7.49
I want to mention that our local grocery store had chicken breasts and thighs on sale for $1.69# which is amazing deal for here. I bought a lot and planned this freezer session out around that. That really helped keep the cost budget friendly.  Each of these will feed a family of 6 (and I am eating for 2 so more like 6+) as well as leftovers for my husband to take to work the next day.  We serve most of these up with LOTS of veggies, salads, brown rice, whatever floats our boat that night.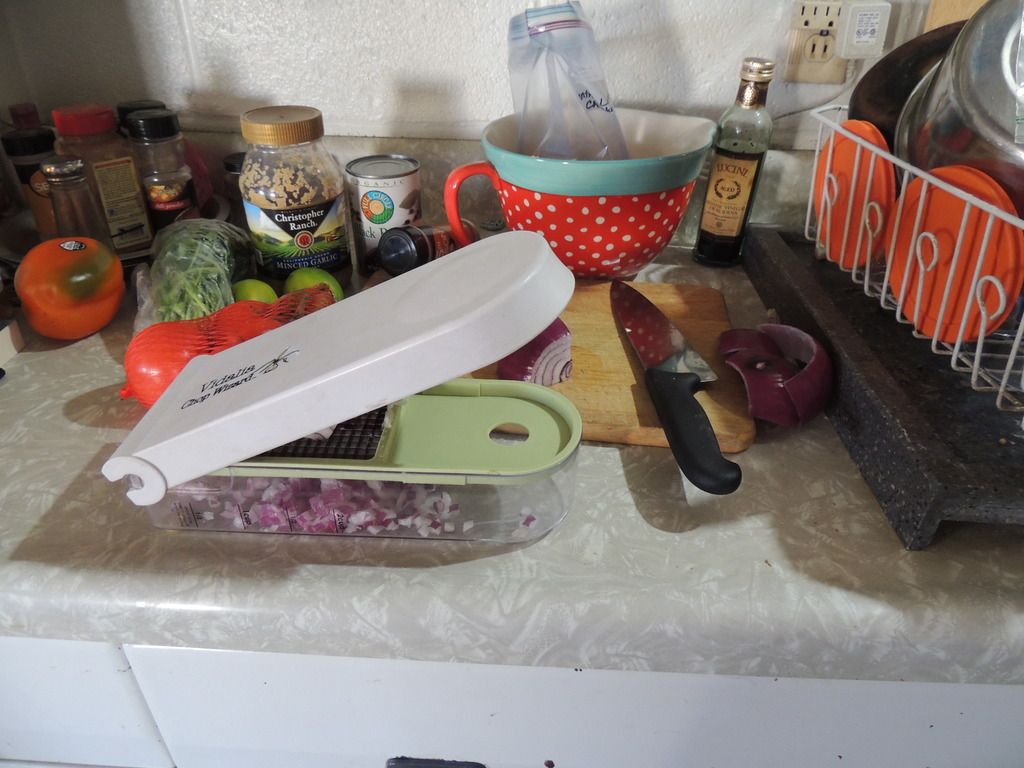 One tool that I used constantly with this session was my handy-dandy veggie chopper. I am such a minimalist that it made more sense for ME to just use a cutting board and knife but this tool cuts wonderfully and has saved me much time that I consider it a tool that every kitchen needs, especially when you are doing big cooking sessions like today's.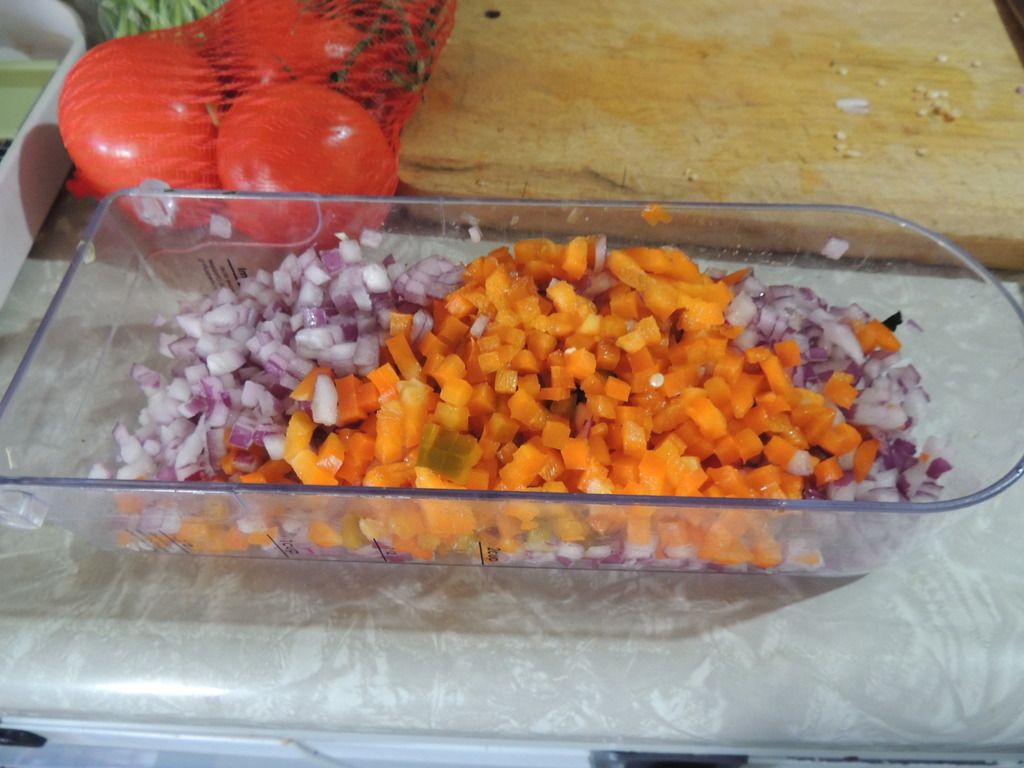 One more thing to do. Take all of today's veggies scraps and chicken bones that I had saved from a previous meal and throw it in the crockpot to make more chicken broth.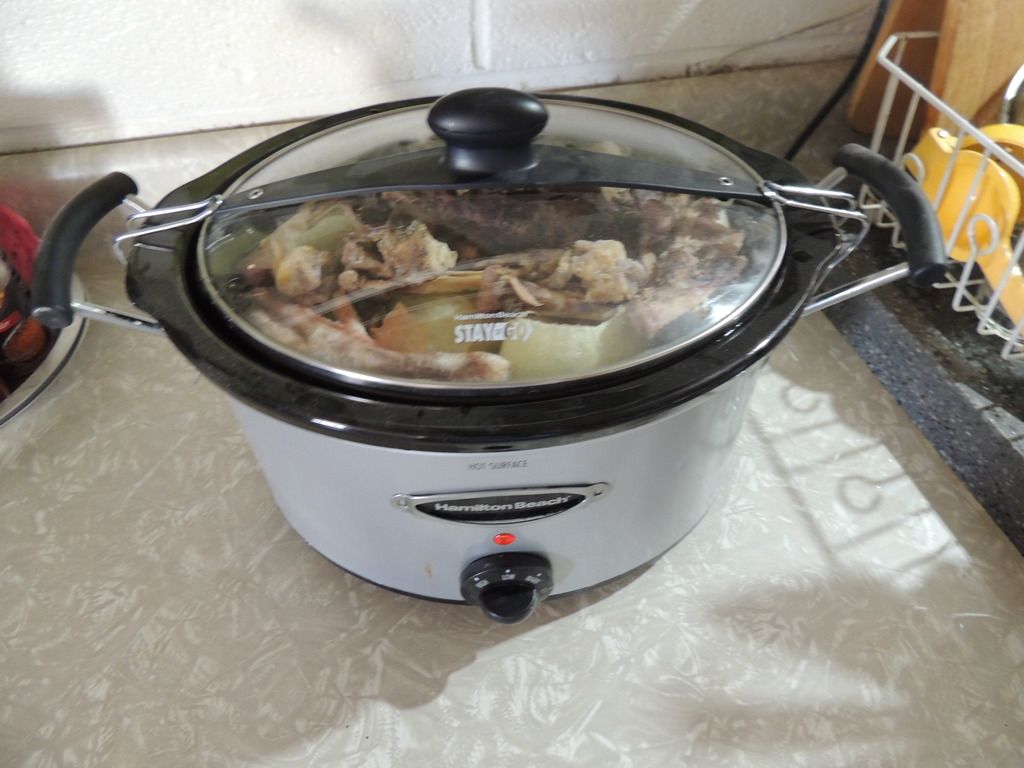 There you have it folks! 8 meals for $57.74 or $7.16 per meal.